Interpreting an Artist's Imagery
October 3, 2010
By Steven Litt, The Plain Dealer
An artist gives up control over how an artwork is interpreted when he or she sends it out into the world. Some imaginary based on mythology, popular culture or widely known symbols is universal. Other images can be highly personal or have autobiographical meanings. How is a viewer to know the difference? Does it matter? The paintings of late Cleveland artist Seth Rosenberg raise these questions with special intensity. They're on view in a special exhibition through Sunday, Jan. 9, at the Museum of Contemporary Art Cleveland, 8501 Carnegie Ave. Admission is $4. Resembling collages, Rosenberg multilayered paintings are made of juxtaposed images culled from the artist's huge collection of vintage books. "He'd spend hours scanning them and would then manipulate them in photoshop," said the artist's widow, Jane Cahoon Rosenberg. On Tuesday, Jane Rosenberg stopped by MOCA and shared her thoughts on the possible autobiographical meanings hidden in "The Annunciation" (2009). Here's what she had to say.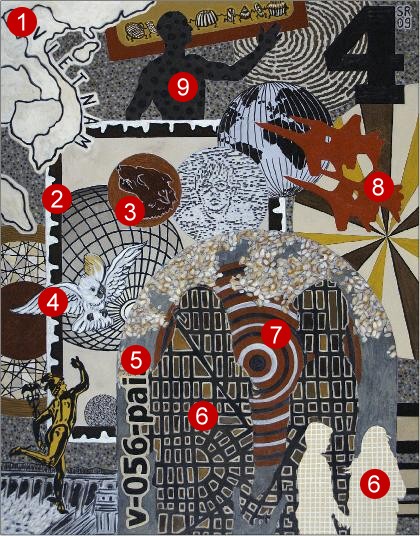 mat
1. The map of Vietnam alludes to the birthplace of Seth and Jane Rosenberg's adopted son, Eli, 10.
2. The sinewy edge of a picture frame that winds through the piece may refer to the frame shop and gallery operated by the Rosenbergs for 20 years in Washington, D.C., before they moved to Cleveland in 2005. It may also symbolize the act of looking into the world.
3. Jane Rosenberg can't remember where her husband found the image of a wolf's head inscribed in a circle, but said he used it in a print he made as a gift for their friend, Rahm Emanuel, President Barack Obama's chief of staff until this week. Jane said the image refers to Emanuel as "the barking dog of the democratic party."
4. The cockatoo refers to a friend's pet bird, which Rosenberg offered to keep for a time. "It fell in love with Seth," the artist's window said, adding that her husband would take the cockatoo into the shower with him, where it would spread its wings across his chest.
5. The code "v-056-pai" is the number assigned to Rosenberg's successful application for a Cuyahoga County Creative Work force Fellowship grant in 2009.
6. The silhouette of a couple represents Bristol Palin and Levi Johnston. The silhouette is reversed, enlarged and repeated in the adjacent cutout pattern of a street map of Paris. Jane Rosenberg said her husband was bothered by the way in which 2008 Republican vice-presidential candidate Sarah Palin "was willing to exploit her children " during the campaign.
7. The target image may be a reference to the 1960s target paintings of Kenneth Noland, a famous D.C.-based Color Field painter.
8. The quartet of jets is based on a photo of a Cleveland air show. Rosenberg could see the show from the window of his studio overlooking Superior Avenue near the Inner Belt.
9. A silhouette of a man covered with polka dots pays homage to dancing pastries. Jane Rosenberg said it was a perfect encapsulation of her late husband's sense of whimsy.